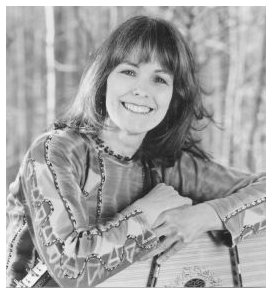 Photo by Gregory Cherin
Click here for "hi res" photos.

Growing up with a jazz musician for a father, a mother who loves to sing, and a drummer for an older brother who introduced her to the music of the Beatles, Jody Marshall absorbed the strains of many different musical styles - from swing-era standards and Dixieland jazz to pop, rock, and folk. So began an eclectic love for music that continues to nourish her imagination today.

Jody began singing harmony with her mother when she was four years old, and couldn't wait till she was old enough to take piano lessons. But it wasn't until much later, when she began playing the hammered dulcimer, that her musicality found its true voice. Now she is well known for her lively and expressive style, as well as for her creative arrangements of both solo and ensemble pieces. In keeping with her varied musical tastes, she is equally adept at playing Celtic jigs and reels, Renaissance and medieval dance tunes, classical music, and other genres. She delights in finding and adapting pieces that sit well on the dulcimer but aren't normally heard on the instrument, mining material from the likes of J. S. Bach, BBC television shows, the Allman Brothers, and Jethro Tull's Ian Anderson. Jody is also an innovative piano player with a style all her own, by turns driving a powerful rhythm for a rollicking reel or softly lilting a gentle waltz.




The Washington Post has described Jody's work as "...deftly balancing the artful and the playful...lovely, lively, and shimmering." With her new solo recording, Cottage in the Glen (Maggie's Music, MM232), Jody has put together a fine collection of music, including original tunes of light-hearted whimsy, tender poignancy, and irresistible rhythms.

Jody is also a popular hammered dulcimer teacher. Her clear and insightful style of instruction has helped hundreds of students become more confident players with a greater understanding of how their instrument "works." She teaches both private lessons and group classes, and is frequently an instructor at workshops and festivals. She has been on the staff of the Augusta Heritage Arts workshops in Elkins, WV; the Upper Potomac Dulcimer Festival in Shepherdstown, WV; the Northeast Dulcimer Symposium in New York's Adirondack Mountains; and the Cook Forest festival in Clarion, PA, among others.

Nominated as best folk instrumentalist by the Washington Area Music Association, Jody's performance credits include the Corcoran Gallery of Art, the Folger Shakespeare Library, the Smithsonian Institution, the Kennedy Center, and the White House. She was a founding member of the D.C.- based folk trio, Ironweed, and also performed extensively with the award-winning Celtic bands, MoonFire and Connemara. She also enjoys performing both solo and with other musicians at weddings, parties, and other special events. When she's not playing, teaching, composing, or recording music, Jody likes to dig in the dirt in her native plant garden and play with the numerous felines that let her live in their house.