HOT OFF THE PRESS!


A Baker's Dozen is perfect for dulcimer clubs - and for anyone looking for
fresh ideas to use in ensemble playing. Jody has tailored the arrangements to the
unique characteristics and range of the hammered dulcimer, but each piece is easily
adaptable for use with fiddle, flute, penny whistle, and other instruments.
Several arrangements suggest creative techniques such as plucking, hand independence,
and hand damping, along with easy-to-understand explanations. Chord symbols are
included for each piece. Suitable for players from advanced beginner on up. 33 pages.
Tracks



1. Star of Wonder
2. Gower Wassail / Gloucestershire Wassail
3. Nutcracker Mini-Suite
4. Sankt Staffan Han Rider / Carol of the Bells
5. Sleigh Ride Set: Winter's Run / Troika
6. Gesù Bambino
7. Hark, Hark What News / Dublin Bells
8. Frosty's Favorite/ Housetop Hornpipe/
The Blazing Yule
9. It Came Upon the Midnight Clear
10. Noel Nouvelet! / Patapan
11. Courante
12. Merry Greet the Day / Christmas Day in the
Morning / I Saw Three Ships / As I Sat on a
Sunny Bank
13. Still, Still, Still
14. Verbum Caro Factum Est / Angelus ad Virginem
15. Ding Dong Swing
16. The Four Seasons: Winter, 2nd Movement /
Joy to the World
17. Star of Wonder


TO ORDER CD ONLY ONLINE HERE!!
Price: $15 plus postage / handling

...or CLICK HERE to order CDs by mail.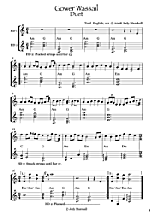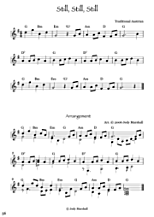 TO ORDER MUSIC BOOK ONLY ONLINE HERE!!
Price: $20 plus postage / handling
---
SPECIAL OFFER!!
Buy both the CD and MUSIC BOOK together and SAVE!
Price: $30 plus postage / handling

...or CLICK HERE to order BOOK by mail.


A light-hearted look at the holidays, featuring playful parodies,
merry memories, and irresistible instrumentals performed on
hammered dulcimer, piano, percussion, fiddle, and various
jingly and chimey things.

Click here for detailed CD information.
Tracks

1. Sleigh Ride
2. The Man from Arctic Circle
3. March of the Toys / Parade of the Wooden Soldiers
4. Cyber Wonderland
5. Linus and Lucy
6. Christmastime for the Kitties
7. Apple Tree Wassail / Here We Come a-Wassailing /
In Dulci Jubilo
8. Joy


ORDER ONLINE HERE!
Price: $10 plus postage / handling


. . . or CLICK HERE to order CDs by mail.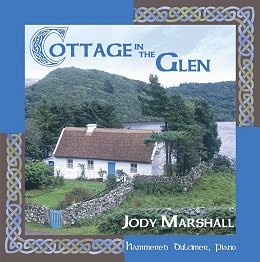 "One of the most pleasant dulcimer albums
I've heard . . . a sweet wall of sound."
-- Dirty Linen
Cottage in the Glen -- Jody's long-awaited debut
solo recording on the Maggie's Music label --
includes original and traditional music performed
on hammered dulcimer and piano,
with a host of talented guest artists joining in.
Tracks



1. Three Sisters of Erin / Little Martha
2. Cau'l Chouzano
3. The Gaudy Bauble / In the Grip of Stronger Stuff /
Ides of March / The Gaudy Bauble Reprise
4. Brandy Tree
5. Mrs. Anne McDermott Rowe
6. Ross' Reel no. 4 / Robertson's Hornpipe / Banks Hornpipe
7. Ragtime Tabby / Catnip Fling / Scattercat Polka
8. Words Unspoken / Labyrinth
9. Cottage in the Glen
10. Vivace
11. Pumpherston Hornpipe / Puddleglum's Misery
12. Summer Garland / Miss Stewart of Grantully /
Half-Past Three / The High Road to Linton


ORDER ONLINE HERE!!
Price: $15 plus postage / handling


...or CLICK HERE to order CDs by mail.
Click here. for detailed information and
sound samples for Cottage in the Glen.
---
PHOTOS | RECORDING | BIOGRAPHY | CALENDAR | BOOKS & SHEET MUSIC
WEDDINGS | NEWS & REVIEWS | INSTRUCTION | BOOKING | HOMEPAGE

©2019 Jody Marshall